Snakebyte: Nintendo Switch Chargers | Review
Snakebyte have two new chargers on the market for Nintendo Switch players that offer two very different solutions to fit your needs.
The Dual Charge: Base S
In the box you get the Base, a USB-C cable, and the Charging Adaptor for the Pro Controller.
The Dual Charge: Base S is the larger of the two bases on offer. It is directed at those who want a more complete storage/charging solution. With space to hold the Dock, Console, Two Joy-Cons, a Pro Controller and up to Ten Games. As it can pull power from the Switch's Dock, you don't need any additional wall sockets but you do need to have your Dock plugged in as normal.
The set up is pretty simple and takes about 30 seconds. Simply plug the bundled USB-C cable into your Dock's USB port and then in underneath the base. Next, pop the small charging adaptor into the Pro Controller's port and that is pretty much it.
The three lights on the front of the base indicate the level of charge in the controllers so you know when they are ready for more gaming.
There is a space in the middle to hold your Dock and that lets you store and charge your console and any attached Joy-Cons. The Pro Controller sits on the front of the base and on either side you can fit two extra Joy-cons that will also receive a charge.
At the back there are ten slots that will stand upright the boxes for your games. Rather than having everything knocking around a drawer, it is a nice compact, but also functional, option.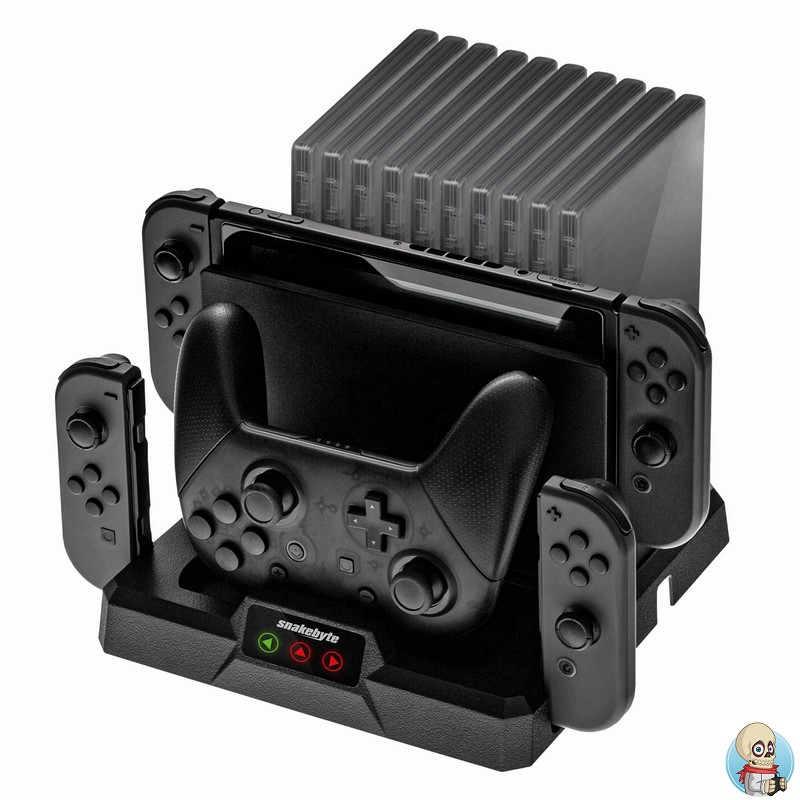 Arrow: Charge S
The smaller of the two is a very handy little charger, and despite the small size it can still store, and charge, the Pro Controller and up to FOUR Joy-Cons at the same time.
Similar to the larger base above it can pull its power from the Dock's USB port so it doesn't need any additional wall sockets.
It has a similar light system around it that that indicates the level of charge from red to green and again it utilises the Charger Adaptor for the Pro controller so you can quickly just sit it into the charger and not have to fumble around with cables.
Overall: Both options offer different solutions. If you are limited for space, or just want a really handy charging option (maybe your desk at work) the Arrow is a super little device.
Should you need a more complete solution the Base is a very handy way to keep everything you need nice and neat.
The adaptor for the pro controller can stay in place and you can quickly drop it in place. Slotting in the games or Joy-Cons takes a small bit more precision but it is still pretty handy.
Here are some pics of our set up.
Please Join us on your Social Platform of choice